Now you need to convert the file to something viewable.



Unfortunately, capturing with the parameters we have specified, produces an avi file, which is very large, taking up a lot of memory and making a file too large to upload to any of the hosting services. You want to convert to a wmv file for easier handling and display. Screen Virtuoso Pro has a conversion utility, but it often simply doesn't work for the larger avi file.

But, we have found a program that works wonderfully. Digital Media Converter.



Download and purchase it here:



http://www.deskshare.com/dmc.aspx

It is relatively easy to use. There are a few settings which you need to make:



1. First, do your general settings



(click Tools/Settings at the top of the program)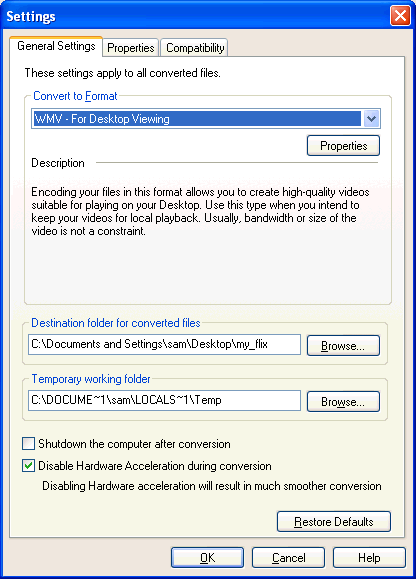 Notice three things on the settings panel:

a.

You select to have your video as a desktop quality

.

This might seem "crazy" since you are planning upload it to the internet and not be using it on the desktop, but the sites like Youtube or Google videos will be doing their own modifications to make it "streaming" on the web, so you want to give them one which shows best on your desktop.



b. Navigation to your destination directory (folder):



Notice that you need to navigate to your destination directory. Creating a folder (directory) on the desktop (as we illustrate) has its convenience advantages, but it could be anywhere. Just make sure it is a location which you know where it is and one that is dedicated to videos (even create specific directories for specific projects)



c. Check to disable hardware acceleration



This simple action will make your conversion more error free. When you are ready to start your conversion (after you add your file to convert) your screen will go black for a few seconds at the start and then again when the conversion is complete (as it turns acceleration back on). That's sort of shocking... if you aren't anticipating it... but now that you know, you won't be surprised.



2. Second, specify your "Properties."



Click the "Properties" button on the previous screen underneath the "Convert to Format."


3. Third Just add a file using the Add files button.


You will see a windows file navigation box. Navigate on your computer to the file you wish to convert (it's located where you specified in your Screen Virtuoso Pro program). If you have forgotten that location look on the videos panel in Screen Virtuso to see where you to find it. After you locate it, click "Open." Then you will see this screen: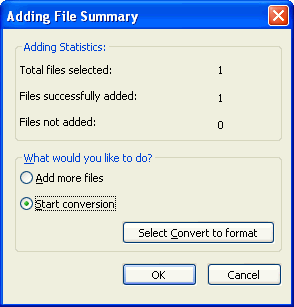 Since you have already done your settings you are ready to go.



4. Last, just start your conversion



Click ok



Note,

because you have checked to disable "hardware acceleration" during the conversion (makes your conversion more error free), your screen will go black for a few seconds at the start and then again when the conversion is complete (as it turns acceleration back on).



5. Viewing and uploading your video



It shows on the screen when your conversion is done (it can take about as long as the video would play to do the conversion). Next, navigate to your destination directory (read above about having a video specific destination folder). and view it in your Windows Media Player. If it looks good, upload it to Youtube or Google videos or other video hosting site.